Highgrove Solar Pocket 1000 6ft Super King Size Mattress with Faux Suede Divan Base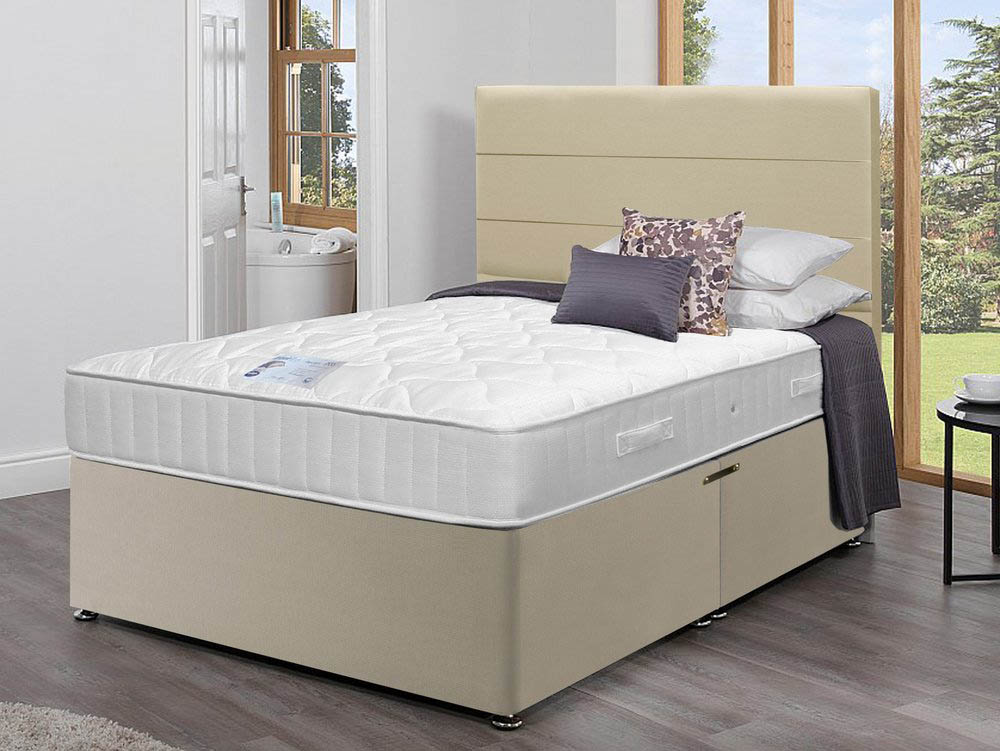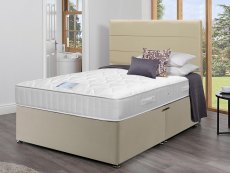 Product Features
Firm

An ideal choice if you require a higher level of support. A firm mattress will suit those who prefer to sleep on their back or front

Pocket Springs

Pocket springs are individual independent springs that contour to your bodyshape and minimise partner disturbance

White Fibre Fillings

A lightweight, high loft material that retains its shape. It's hypo-allergenic and offers great comfort and longevity

Wire Edge Border

A thick wire surrounds the perimeter of the spring system and increases the life of the mattress

Quilted Finish

Stitching the outer fabric to the surface layers of fillings ensures a comfortable and flat sleeping surface

Damask Cover

Hard wearing and durable cover in a timeless woven design

Double Sided Mattress

Can be flipped and rotated. Sleeping on both sides will ensure wear and tear is evenly distributed

10 Year Warranty

In addition to a 1 year guarantee, this mattress has a further 9 years manufacturing warranty for complete peace of mind
Product Description
The Pocket 1000 6ft divan set is from Highgrove Beds Solar collection and boasts an independent pocket sprung mattress that is 28cm deep and offers a supportive night's sleep.
The mattress benefits from several layers of hypo-allergenic fillings that create an ideal sleeping environment for allergy sufferers and is covered in a micro quilted damask fabric.
Micro quilting is a process that sews the outer damask cover to the top layers of fillings. This ensures they are held firmly in place and avoids lumps appearing in the mattress.
Its pocket spring interior provides piston-like support to each part of the sleeper's body as each spring is housed in its own cloth sleeve, so the load on one doesn't affect the one next to it.
The result is a spring system that directly supports at the point of contact and is not affected by varying weight and body shapes. This allows the mattress to contour perfectly to your body.
The base is offered in four desirable colours, natural, black, sand and cappuccino. It is also presented with a variety of storage combinations and the choice of standard castors or modern silver glide feet.
Simply select your desired base colour, storage combination and feet type from the option tabs above before adding the product to basket.
To complement the divan, matching headboards are available in strutted or floor standing styles. The floor standing model is much sturdier and won't rock back and forth unexpectedly.
From Highgrove Beds, the Solar Pocket 1000 is a quality and well tailored super king size divan set and will suit those who want a firm support.
Please note: Headboard is not included.
Customer Reviews
By
Wendy T Kerr
on
26th September 2021
"Good quality bed firmness just right very pleased with the guarantee and have great nights sleep."

By
Anne Porter
on
13th August 2021
"Lovely bed with storage. Mattress firmer than expected, but getting used to it. Oy complaint was the loss of part of .y order, which ment I could not .over into my new flat."

By
Emma Inglis
on
7th June 2021
"Really comfortable mattress. Very pleased. Very firm and supportive. Back pain much better. Excellent value for money too."

By
Jacqueline Carney
on
1st February 2021
"Excellent zip and link mattresses - firm but not too firm like the harder orthopaedic one so just perfect for what we were wanting"

By
Stephen Murphy
on
19th November 2020
"Mattress is as described. Time will tell on quality of manufacture but early view is that it is firm and cosy."

Delivery Info
Day of Choice 1 Man: FREE (online exclusive)
A one man service to the ground floor door of your building. You may need assistance to bring the goods into your house.
Saturday delivery: £20
Room of Choice 2 Man: £39
A two man service to the room of your choice with a 3hr time slot.
All assembled furniture requires the 2 man service.
Scottish Islands*, N Ireland and IoM Delivery: £89
Up to 3 weeks longer than a mainland delivery. Phone us for arrangements for your specific location.
* Scottish Islands includes a few remote mainland locations
Assembly
Local to one of our stores
Divan base, mattress and headboard: £15
Bed frame: £25 (excluding bed frames with storage)
Electric adjustable beds: £15 per unit (5ft and 6ft: £30)
Flat packed furniture: contact local store
Rest of mainland UK excluding remote locations
Divan base, mattress and headboard: £30
Bed frame: n/a
Electric adjustable beds: £50 (all sizes)
Flat packed furniture: n/a
Recycling
Local to one of our stores
Mattress: £25
Divan base: £25
Bed frame: £25
Divan base and mattress: £35
Divan base, mattress and headboard: £35
Bed frame and mattress: £35
Electric adjustable beds: £35 per unit (5ft and 6ft: £70)
Rest of mainland UK excluding remote locations
Mattress: £50
Divan base: £50
Bed frame: n/a
Divan base and mattress: £65
Divan base, mattress and headboard: £70
Electric adjustable beds: n/a
Failed Delivery Charge: £15
Our delivery times are between 8am and 6pm and someone must be present to sign for the goods.
Damages
Check all packaging is in good order. If the packaging is damaged still accept the goods but state on the paperwork "packaging damaged". If there is damage we will have the item replaced and the damaged item uplifted.
Late Delivery
We offer no compensation for loss of earnings, storage of goods or other costs incurred due to late delivery.

(5 reviews)
FREE delivery within 7 days
Other available sizes