Beds and Mattresses Glasgow North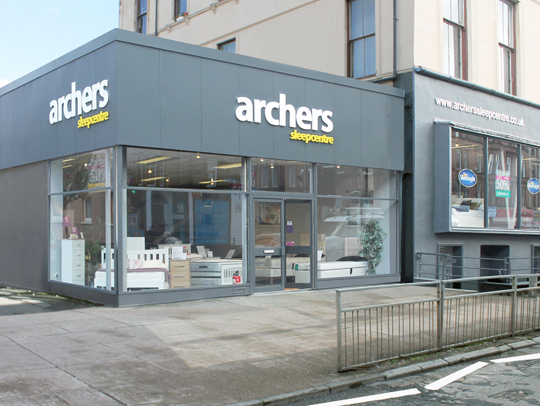 Location
200 metres from St Georges X underground station on Great Western Road.
About Archers Sleepcentre
Archers Sleepcentre was founded in 2001 and is now the largest independent bed retailer in Scotland with bed shops located across the country from Dundee to Ayr.
National Bed Federation Award Winners
E-tailer of the year 2014
National Retailer of the year 2017
Widest Choice
Our bed showrooms are large and our product range is wide.

Fast Delivery
We carry stock of many of our beds and mattresses in several stores for collection or immediate delivery.
If you go to the store with suitable transport, you can take your bed away today.
Best Advice
We are bed specialists.
Head Office
39 Colquhoun Avenue
Glasgow G52 4BN

Enquiries
headoffice@archerssleepcentre.co.uk 
Tel: 0141 892 0308
Live Chat (Mon to Sat 9am to 5:30pm, Sun 11am to 5pm)
Bed Shops Glasgow North
200 Great Western Road, Glasgow, G4 9AE - Get Directions
Contact
Telephone: 0141 331 0200
Email: gwr@archerssleepcentre.co.uk
Opening Times
Monday: 10am - 6pm
Tuesday 10am - 6pm
Wednesday 10am - 6pm
Thursday 10am - 6pm
Friday 10am - 6pm
Saturday 10am - 6pm
Sunday 11am - 5.30pm