Birlea Berlin 4ft6 Double Black Upholstered Faux Leather Ottoman Bed Frame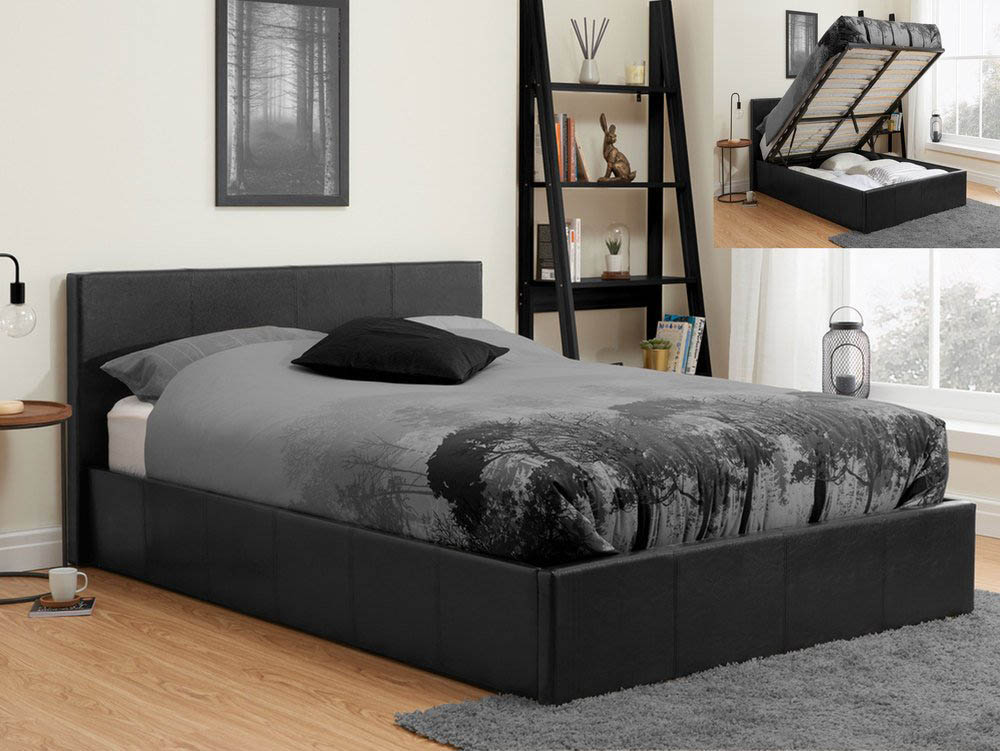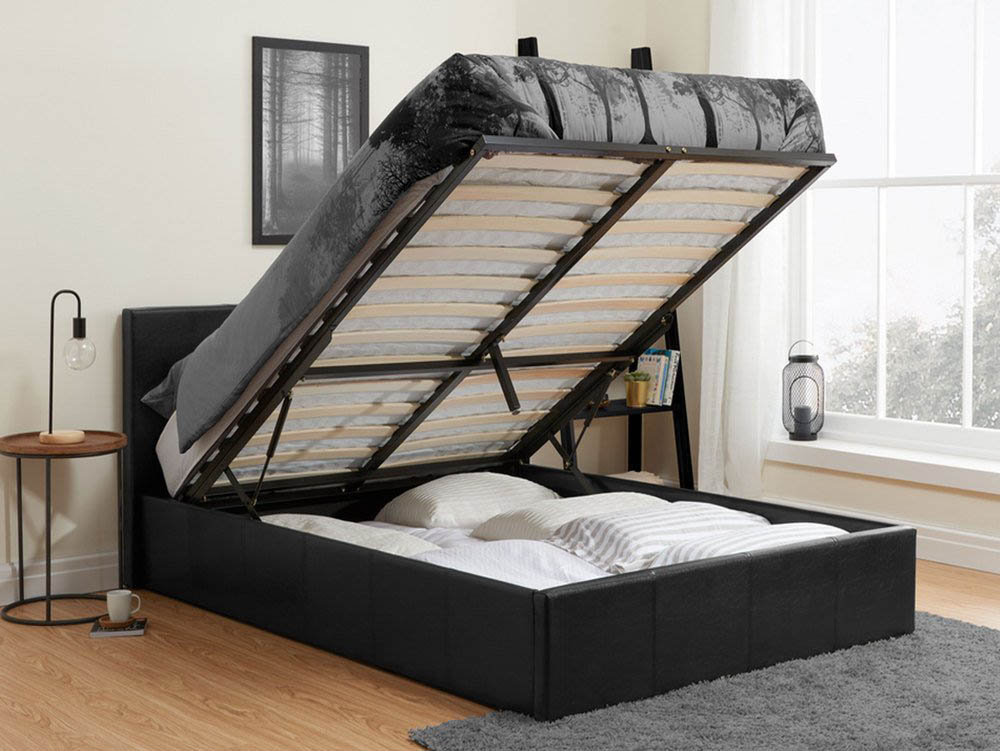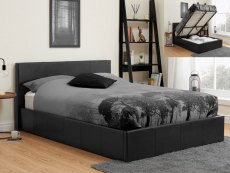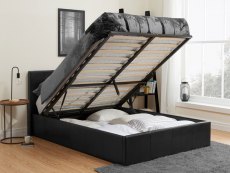 Product Description
The Berlin ottoman bed frame has a minimalist style, yet offers heaps of practicality. The hidden storage space is perfect for cluttered bedrooms that lack the necessary floorspace for furniture.
The front-opening mechanism reveals a decent amount of space for some convenient, light storage.
The base also has sprung slats that work like a shock absorber to prolong the life of your mattress.
The simple design looks great in contemporary surroundings. Low to the ground and upholstered in black faux leather, it's a stylish bed frame that will certainly impress guests.
Considering it's affordability and fantastic value, the Birlea Berlin ottoman is a best-buy. So don't miss out, Buy Today.
Please note that all bed frames are self assembly and priced without a mattress
Customer Reviews
By
Mrs Jennifer Bolton
on
9th June 2022
"Quick delivery, nice looking bed, instructions for putting the bed together we're not clear and diagrams we're to small"

Staff response...
Good Afternoon Jennifer,
Thank you for taking the time to leave us a review.
We are delighted to hear you are happy with your bed, despite some slight assembly and instructions issues you faced.
You are able to download the instructions online, from our website which may make these easier to read.
If you also are experiencing any issues with assembly, please do not hesitate to contact our Internet Sales team who will be able to help you.
Kind Regards,
Archers Sleepcentre
By
mr leon newton
on
23rd April 2022
"Quick and Simple to put together."

Staff response...
Hi,
Thank you for taking the time to leave us a review.
It's great to hear how easy the assembly was.
Kind Regards,
Archers Sleepcentre
By
Lorraine Bradley
on
2nd October 2021
"Great value and pretty easy to assemble. Colour and description accurate. Great storage under bed. Would have preferred if you had advised base of storage underneath was just thin fabric(thicker fabric would be better) but would still recommend."

By
Dean Sewell
on
2nd September 2021
"Would be better with a more solid (rather than fabric) bottom"

By
Ross Bradley
on
27th August 2021
"Bed frame is adequate and fits the purpose."

By
Sharon Qureshi
on
9th August 2021
"Excellent bed. Instructions could be clearer"

By
Angie Sinclair
on
5th July 2021
"Reasonable price, easy to order and puck a delivery date"

By
Sian Abrahams
on
23rd June 2021
"The bed was easy to put together, the instructions were clear and it looks good. The storage area is ample and we are really happy with it."

By
Susan Mcdougall
on
22nd June 2021
"Beds okay needs two people to assemble"

By
Derek Wallace
on
6th June 2021
"Good bed at a reasonable cost. Our young grandson had no trouble in sleeping all night."

By
Linda Smith
on
3rd June 2021
"Quality helpfulness of staff"

By
Mandy Marshall
on
25th April 2021
"Love these beds ( we bought two) easy to assemble and the lifting mechanism works well. Very reasonably priced. Would recommend."

By
Lisa Wellby
on
8th April 2021
"Very light weight compared to our old Dreams bed. But looks good. Was a fraction of the price, so you get what you pay for!"

By
Christine Rennie
on
23rd March 2021
"I thought their service was very good"

By
Carol Stewart
on
23rd February 2021
"The bed in lovely now it is built but the instructions were terrible. None of the parts were labelled so it was difficult to distinguish between the parts. The diagrams were very difficult to decipher and there was no pictures of what it should look like so it was difficult to know if you were putting things the correct way around. It took hours to build too!"

By
tina davis
on
10th February 2021
"VERY POOR SERVICE. NO CUSTOMER SERVICE WHATSOEVER FROM THE FEW MEMBERS OF STAFF I SPOKE TO. MANY DEMONSTRATED AN ATTITUDE ON THE PHONE. DAVID FROM 'GLASGOW OFFICE' WAS THE ONLY ONE THAT TREATED ME WITH CURTESY AND RESPECT."

By
Debbie Cottrell
on
1st February 2021
"Slightly complex instructions but fairly easy construction with two people."

By
Linda Smith
on
22nd December 2020
"Looks good pleased with overall feel and look, good purchase"

By
Charles Dundas
on
9th December 2020
"It seems fine, and was pretty easy to put together."

By
Allyson Young
on
28th November 2020
"Nothing wrong with bedframe"

By
Avril Queen-Schadau
on
26th November 2020
"Easy to assemble. Looks good and feels sturdy"

By
David Neilson
on
20th November 2020
"No instructions included. Double and triple checked but definitely not in the box. Found the instructions online but the quality of them was poor. The parts guide lettering each part didn't quite match what the items actually looked like. The instructions themselves were impossible, and I've had plenty experience building similar furniture. Gave up with them and figured it out myself"

By
Stephen Allison
on
17th November 2020
"Birlea beds good quality would recommend"

By
john oreilly
on
8th November 2020
"the bed is good value for money , but instructions (website & paper copy) require to be reassessed , seems to have been put together by a production team rather than a department that has actually built it."

By
Ajitpal Bhatt
on
30th October 2020
"Much more solid than previously purchased from other companies"

Delivery Info
Day of Choice 1 Man: FREE (online exclusive)
A one man service to the ground floor door of your building. You may need assistance to bring the goods into your house.
Saturday delivery: £20
Room of Choice 2 Man: £39
A two man service to the room of your choice with a 3hr time slot.
All assembled furniture requires the 2 man service.
Scottish Islands*, N Ireland and IoM Delivery: £89
Up to 3 weeks longer than a mainland delivery. Phone us for arrangements for your specific location.
* Scottish Islands includes a few remote mainland locations
Assembly
Local to one of our stores
Divan base, mattress and headboard: £15
Bed frame: £25 (excluding bed frames with storage)
Electric adjustable beds: £15 per unit (5ft and 6ft: £30)
Flat packed furniture: contact local store
Rest of mainland UK excluding remote locations
Divan base, mattress and headboard: £30
Bed frame: n/a
Electric adjustable beds: £50 (all sizes)
Flat packed furniture: n/a
Recycling
Local to one of our stores
Mattress: £25
Divan base: £25
Bed frame: £25
Divan base and mattress: £35
Divan base, mattress and headboard: £35
Bed frame and mattress: £35
Electric adjustable beds: £35 per unit (5ft and 6ft: £70)
Rest of mainland UK excluding remote locations
Mattress: £50
Divan base: £50
Bed frame: n/a
Divan base and mattress: £65
Divan base, mattress and headboard: £70
Electric adjustable beds: n/a
Failed Delivery Charge: £15
Our delivery times are between 8am and 6pm and someone must be present to sign for the goods.
Damages
Check all packaging is in good order. If the packaging is damaged still accept the goods but state on the paperwork "packaging damaged". If there is damage we will have the item replaced and the damaged item uplifted.
Late Delivery
We offer no compensation for loss of earnings, storage of goods or other costs incurred due to late delivery.
FREE delivery 6 to 8 weeks
Black faux leather.
Easy lift mechanism.
Sprung slatted base.
L205cm x W147cm x H84cm

Assembly Instructions
Other available sizes